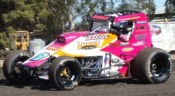 In 2009, Santa Maria Speedway Promoter Chris Kearns founded the West Coast 360 Sprint Car Series. The non-winged 360 cubic-inch sprints had a 23-race schedule with stops at Santa Maria, Bakersfield, Hanford, and Ventura. 19-year-old Justyne Hamblin from Hanford claimed the inaugural series title. While the division may be new, many of the stars have campaigned in Central California for years. Other star drivers include Peter Murphy, Rusty Carlile, Davey Pombo, Danny Faria Jr., Craig Stidham, Bud Kaeding and many more.

In 2010, the West Coast 360 Sprint Car Series signed on with the United States Auto Club (USAC). Series Promoter Chris Kearns gathered a point fund of $20,000 with more bonuses for the competitors. With sponsorship provided by USAC, Hoosier Tire, and Southwest Contractors, the series champion was guaranteed a minimum of $5,000. "It is great to have a sanctioning body like USAC involved in the West Coast 360 Sprint Car Series. When someone thinks of Non-Wing Sprint Car Racing, USAC is obviously the first name to come to mind," says Kearns. "I am very humbled that USAC has chose to support our series."

"USAC is proud to extend its enterprise in the Western Region. 360 Sprint Car racing is a natural extension for USAC and I feel being a part of the West Coast 360 Sprint Car Series is a perfect fit for us," says USAC President Kevin Miller. "Chris Kearns has a great formula for 360 Sprint Car racing and we are proud to be part of it and will support the series will any of the resources we can provide." "It is going to be awesome to have USAC's resources available to us. Our racers deserve the National recognition they are now going to receive," says Kearns. "I feel we are really taking a step in the right direction for 360 Non-Wing Sprint Car Racing. We are getting tremendous support from the racers, and already have great support from Southwest Contractors as one of our main points fund sponsors."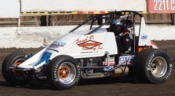 Veteran driver Craig Stidham of Fresno claimed the 2010 USAC West Coast 360 Sprint Championship. On the strength on four wins, Stidham bested Davey Pombo to win the title in his first year of non-wing sprint car racing. Pombo won the Southwest Contractors 360 Clash mini-series and T.J. Smith won the Santa Maria crown. It was a banner year for the club as 13 different drivers won in 21 events, including USAC Silver Crown Champion Bud Kaeding (twice) and USAC/CRA standout Danny Sheridan.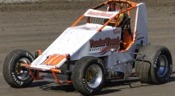 2011 was a banner year for the USAC West Coast Sprint Car Series and when the point chase was over, Visalia's Richard VanderWeerd added his name to the champion's list. Consistency was the key for the pilot of the family's #10 VanderWeerd Construction / Battery Worx Maxim as Richard led the series with three Sander Engineering Fast Time Awards (tied) and fourteen top-10 finishes. In addition, VanderWeerd had one feature win, three heat race victories, one Keizer Wheels Hard Charger Award, and seventeen feature laps led. In all, seventy-four different drivers took the green flag with eight scoring feature wins in the tough 16-race schedule. The average car count for the young sanctioning body was twenty-three, up fifteen percent from the previous season.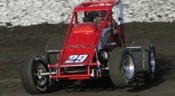 The car counts and the level of competition continued to rise in 2012 as 105 drivers took the green flag and six claiming feature wins in the 14 point races. Piloting Junior Bowman's #29 Buster & Ziggy Enterprises / Kaeding Performance Bullet, Bud Kaeding of Campbell won the title and Hollister's Ryan Bernal won the inaugural Grudge Series with the ASCS Canyon Region. Austin Liggett of Tracy earned Rookie of the Year honors and the average car count was twenty-six, up thirteen percent from the previous year..